http://Amazon.com/forum
http://Amazon.com/forum
PAT SPEER SAID:
>>> "The issue is who has "expert [qualifications]", and here you say that a photo interpreted by nine experts in anatomy to show a bullet wound on the back below the throat wound clearly shows one far above the throat wound. What expert does VB cite to make such a statement?" <<<
DAVID VON PEIN SAID:
Why does Vince Bugliosi need to consult an "expert" when comparing two AUTHENTICATED-AS-GENUINE autopsy photographs? All Vince needs is a pair of eyeballs.
>>> "What expert do you cite to make such a statement?" <<<
Why do I need to cite an "expert" either? I've got two eyeballs too.
Geesh.
As anyone can plainly SEE for themselves (based on the two autopsy
pictures below, utilized in tandem), the bullet hole in John Kennedy's
upper back is WELL ABOVE the wound in his throat....and President
Kennedy is positioned just about as RAMROD STRAIGHT as you can get
the man, as he is lying FLAT ON HIS BACK HERE (the picture on the left
has been turned sideways for proper "SBT"-favoring orientation with
respect to President Kennedy's throat and upper-back wounds):
Why on this Earth the HSCA came to the cockeyed conclusion that the
back wound was below the throat wound (anatomically-speaking) is a
mystery that I cannot answer. But they were dead-wrong when they said
that. Period.
For Pete sake, just look at the picture shown below. In order for the back
wound to be physically (anatomically) LOWER than the visible throat wound
in this autopsy photograph, the bullet hole in Kennedy's back would have to
be located LITERALLY off the bottom edge of that photo: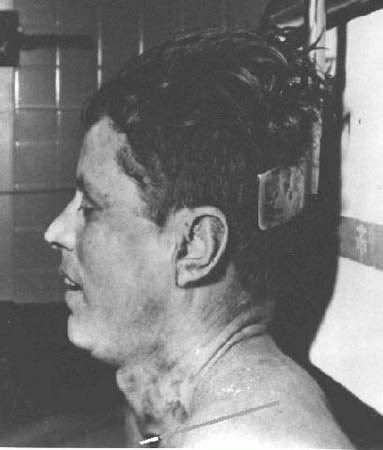 And does ANYONE (even the HSCA) truly think that the bullet hole in John F.
Kennedy's back was THAT LOW on his back?
That's cuckoo talk!
David Von Pein
November 2007
LINK TO ORIGINAL POST (NOVEMBER 2, 2007)