A CONSPIRACY NUT UTTERED:


>>> "The neck wound entered the front and made a clean exit wound out the back." <<<
DVP THEN UTTERED BACK:
Huh?? (And LOL.)
Where was the gunman who fired that shot then? Sitting on the
floorboards of the limousine?
Better think up another crackpot theory, because this one won't make
it past the first-base coaching box.
>>> "The back wound did not penetrate fully and dropped out. Probably a bad round." <<<
Huh?? You just a second ago said that the throat-wound bullet
"made a
clean exit wound out the back"
. (Remember that? The shot from the
midget firing from the limo's floorboards?)
Now you're saying there was a bullet that entered JFK's back and
"dropped out"
??
Which is it? Or do you want to create your own unique theory that has
the back-wound bullet miraculously entering the very same hole that
was created by the throat-wound bullet, which is a bullet that you
said
"made a clean exit wound out the back"
?
It's great being a conspiracy theorist, isn't it Rob [Caprio]? You get
to make up your own theories, day and night....and you never once
have to worry about the ACTUAL evidence in the case at all.
All that any conspiracist has to do is to utter these 5 magical words
and every CT-Kook is forever off the hook with respect to the real
evidence in the JFK case --
"ALL THE EVIDENCE IS TAINTED"
.
Nice policy, huh? (If you're a fool, that is.)
BTW, there's no possible way that any bullet simply
"dropped out"
of
John F. Kennedy's back in the emergency room at Parkland (as many
CTers seem to believe).
For, if that HAD occurred, that bullet would certainly have been
recovered right there in the ER. (At the very least, it would have
been noticed by somebody who was in charge of cleaning up the blood
and gore in ER #1 after JFK's body had left the hospital. To believe
otherwise is kinda silly.)
And to think that any such bullet that would have
"dropped out"
of
JFK's back could have POSSIBLY been Bullet CE399 is also a wild CT
fairy tale of the first order.
Why?
Because Kennedy's body was never in the area of Parkland Hospital
where Darrell Tomlinson found that bullet (nor was JFK's stretcher).
Naturally, via that scenario believed by many CTers whom I have
conversed with over the years, those CTers think the bullet was
magically moved or "planted" on or near Governor Connally's stretcher
down the hall.
But that would have been rather stupid, wouldn't it? Why on Earth
would any plotters have had any desire to want to MOVE an actual piece
of Oswald-incriminating evidence from Kennedy's stretcher to
Connally's stretcher down the hall?
It's just dumb. But many conspiracy theorists actually believe such a
bullet "move" happened.
Go figure kooks.
>>> "What is this, a trick question [when I asked in THIS 10/21/07 POST:

"Where Did The Bullets Go And Why Didn't They Tear Up John Kennedy's Neck & Back At All?"

]? You're acting like you found a smoking gun." <<<
Oswald was the only one who held a smoking gun on 11/22/63. And no,
it wasn't a "trick" question. It's a very valid question, and is a question
that no conspiracy theorist has ever been able to answer in a believable
and logical manner. You certainly failed to do so, that's for sure.
You conspiracy kooks think THREE bullets went into the two victims (not
counting the head shot to JFK), and then all of these bullets just vanished.
And yet you think my question is a "trick" question of some kind? Are you
senile? It's a perfectly logical question that needs to be answered in a
coherent manner by the CTers who think the official "Single-Bullet Theory"
version of events is incorrect.
Moreover, the second part of my question is just as important to reconcile
as the "Where Did The Bullets Go?" portion of the inquiry. That second part
being: "WHERE'S THE PHYSICAL DAMAGE TO KENNEDY'S INNARDS THAT
WOULD ACCOUNT FOR TWO BULLETS STOPPING INSIDE HIS BACK AND
NECK?"
No such damage was discovered inside JFK's body at all on November
22nd. None. The only non-head damage to his body was some very slight
trachea damage (caused by Bullet CE399 and/or by Dr. Perry's trach
incision at Parkland) and a small amount of bruising to Kennedy's
right lung (caused, per the autopsy doctors, by the mere PASSAGE of
the high-speed bullet as it went over the top of JFK's right lung,
prior to exiting out the lower part of his throat).
But the key here is: NO BONES OR HARD SUBSTANCES WERE HIT OR
BROKEN INSIDE THE NECK AND UPPER-BACK REGIONS OF JOHN KENNEDY'S
BODY.
Quoting JFK's lead autopsist, James J. Humes (via his 1964 Warren
Commission testimony):
"In attempting to relate findings within the President's body to this wound which we had observed low in his neck, we then opened his chest cavity, and we very carefully examined the lining of his chest cavity and both of his lungs. We found that there was, in fact, no defect in the pleural lining of the President's chest. It was completely intact.

"However....in the apex of the right pleural cavity, there was a bruise or contusion or eccmymosis of the parietal pleura, as well as a bruise of the upper portion, the most apical portion, of the right lung.

"It, therefore, was our opinion that the missile--while not penetrating physically the pleural cavity--as it passed that point....bruised both the parietal and the visceral pleura. ....

"This missile, to the best of our ability to ascertain, struck no bone protuberances, no bony prominences, no bones as it traversed the President's body. ....

"[The X-rays] showed no evidence of a missile in the President's body at any point."
http://mcadams.posc.mu.edu/russ/testimony/humes.htm
===================
[END HUMES' QUOTES.]
===================
So...what caused TWO bullets to come to a dead stop inside President
Kennedy's body on November 22nd? Was it an invisible "CT Force Field"
or something?
(And CTers call LNers crazy for believing in the Single-Bullet Theory.
Holy H. Mackerel, if that isn't a "pot/kettle" laugh!)
>>> "Also, it [the SBT bullet] would not have come out intact." <<<
Then I guess the bullet pictured below (which took a very similar CE399-
like path through two mock bodies) must be a fake too, huh?.....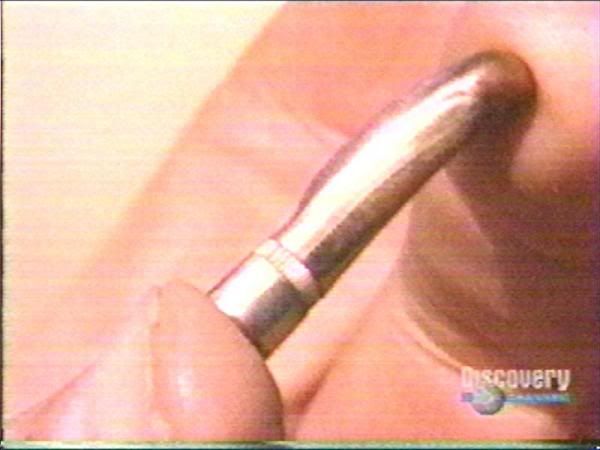 Beyond The Magic Bullet
>>> "What you get out of believing this fairy tale is what I'd like to know. I guess your job is tied to supporting this phoney crap." <<<
No, my main job here is merely to help make you conspiracy-loving
kooks look like total idiots -- which is a job I do very well most of
the time.
David Von Pein
October 2007
LINK TO ORIGINAL POST (OCTOBER 23, 2007)